Bikinis & Peach Bellini's
Regular price
$24.50 USD
Sale price
$24.50 USD
Unit price
per
Sale
Sold out
Bey said "got my 3 best friends…".  Bags packed, Uber is on the way, and you're making sure your playlist is ready for this girl's trip.  It's been a while since you've done ratchet things with your friends, so this trip is essential to your mental health. Bikinis & Peach Bellini's exhales sweet peaches and mangos garnishing these amazing cocktails while we lay on the beach in our two pieces and sarongs.  Lord, be an itinerary soon!
Share
Ingredients

Soy wax

Premium fragrance oils
How to use

The first time you burn your candle, allow it to burn for about two hours.  This allows it to burn evenly (prevent tunneling) and the fragrance is heightened.

Trim your wicks. Wicks tend to mushroom while burning. Trimming your wick eliminates mushrooming and minimizes soot creating during burning time.  About 1/4 of an inch is a good length to keep your wick at.

Extinguishing your flame can be done multiple ways (I still old school blow mine out).  Some people place the lid on the flame to smother it.  However, I've learned that dipping your wick into the melted wax is also a way of dousing out the flame.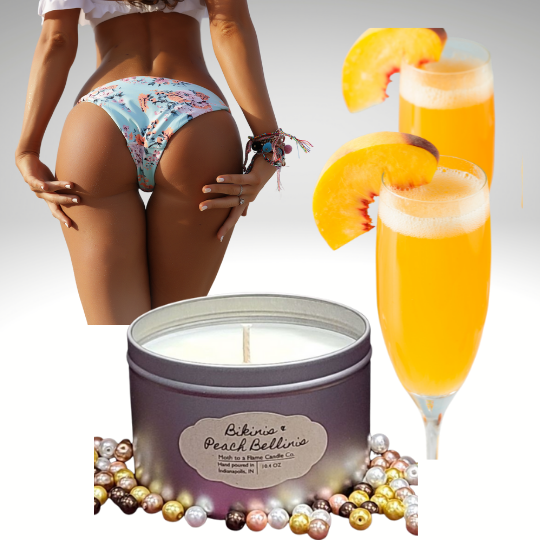 Amazing Smells
This smells amazing! They work well with my candle warmers and I can smell it way after I've turned it off. These are some of the best candles I've ever purchased! Highly recommend.