Bite the Pillow
Regular price
$24.50 USD
Sale price
$24.50 USD
Unit price
per
Sale
Sold out
That's right!  Nothin' like a session with your love interest and leaning your face into a pillow to muffle the sounds or hide that face you're making!  Bite the Pillow is a fresh scent with blends of sandalwood, powder, cotton blossom, orange blossom, and ozone.  You'll be pleased twice if you find your nose buried in this treasure.  Of course, you could just be laying down to go to sleep as well, lol!
*The 9.8oz option comes in a glass jar
Share
Ingredients

Soy wax

Premium fragrance oils
How to use

The first time you burn your candle, allow it to burn for about two hours.  This allows it to burn evenly (prevent tunneling) and the fragrance is heightened.

Trim your wicks. Wicks tend to mushroom while burning. Trimming your wick eliminates mushrooming and minimizes soot creating during burning time.  About 1/4 of an inch is a good length to keep your wick at.

Extinguishing your flame can be done multiple ways (I still old school blow mine out).  Some people place the lid on the flame to smother it.  However, I've learned that dipping your wick into the melted wax is also a way of dousing out the flame.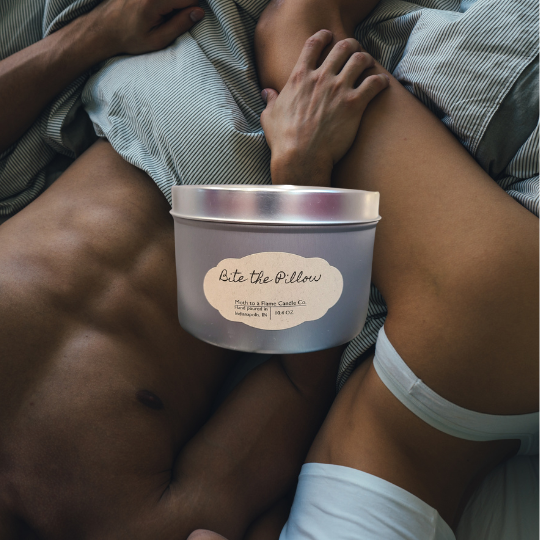 It's my fave!
This candle is absolutely refreshing and my favorite scent
Long Lasting Scent!
Love the Scent! I burned the candle for most of my work day and the scent was still there! Highly recommended.
Intriguing…
The name intrigued me, but the actual scent has captured my heart. This candle smells heavenly and orgasmic! I love it!