Girl Dad
Regular price
$24.50 USD
Sale price
$24.50 USD
Unit price
per
Sale
Sold out
A girl's first love is her dad.  If you're a girl dad, then you know there's nothing like the bond between you and your baby girl(s).  Girl Dad is masculine but soft and calming.  Hints of lavender, dark musk, amber, and vetiver blend to create a sense of familiarity.  It reminds me of every time I reached in to give my daddy a hug or had to cry on his shoulder. 
Share
Ingredients

Soy wax

Premium fragrance oils
How to use

The first time you burn your candle, allow it to burn for about two hours.  This allows it to burn evenly (prevent tunneling) and the fragrance is heightened.

Trim your wicks. Wicks tend to mushroom while burning. Trimming your wick eliminates mushrooming and minimizes soot creating during burning time.  About 1/4 of an inch is a good length to keep your wick at.

Extinguishing your flame can be done multiple ways (I still old school blow mine out).  Some people place the lid on the flame to smother it.  However, I've learned that dipping your wick into the melted wax is also a way of dousing out the flame.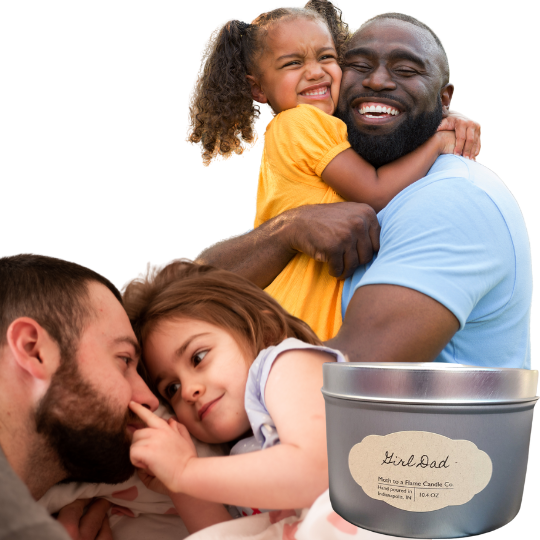 GIRL DAD
I love love love it I've burned it so much its almost gone
Strong and gentle
Reminds me of my Grandpa. He always smelled like a fresh shower and shave. Plus he was always ready to give the best hugs!