Mood 4Eva
Regular price
$24.50 USD
Sale price
$24.50 USD
Unit price
per
Sale
Sold out
When you're getting ready to hit the streets and your playlist is killing while you primp and prep.  An important part of this regimen is moisturizing.  Ladies, don't we (and he) love soft supple skin that smells good?  Mood 4eva gives body butter vibes.  Peach, mango, pineapple, and coconut milk along with a banging fit and the attitude to match- sounds like a mood to me!
Share
Ingredients

Soy wax

Premium fragrance oils
How to use

The first time you burn your candle, allow it to burn for about two hours.  This allows it to burn evenly (prevent tunneling) and the fragrance is heightened.

Trim your wicks. Wicks tend to mushroom while burning. Trimming your wick eliminates mushrooming and minimizes soot creating during burning time.  About 1/4 of an inch is a good length to keep your wick at.

Extinguishing your flame can be done multiple ways (I still old school blow mine out).  Some people place the lid on the flame to smother it.  However, I've learned that dipping your wick into the melted wax is also a way of dousing out the flame.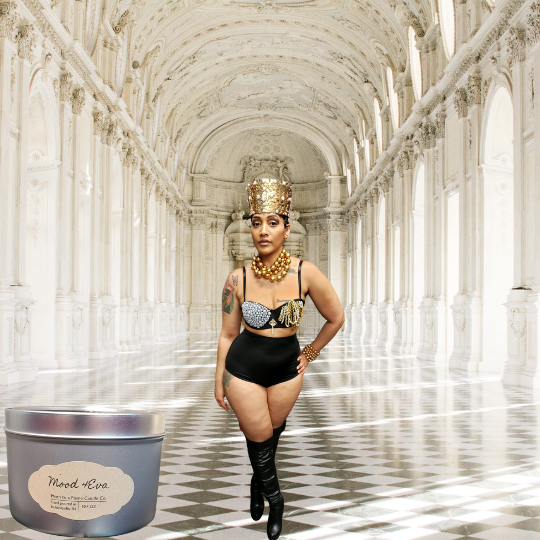 I absolutely love this scent! Such a refreshing fragrance!
Love this! So fitting in many gifting situations.
Love this scent for myself and also has been a great gift for weddings and birthdays.
This is scent is def a MOOD! I bought it at one of her pop ups a few weeks ago and been burning it ever since. So I had to come to the website and purchase the bigger size. Love MTAF!!
Baaaaaaaaby this Mood forever candle is bomb.com
I just met you at the U Glam Event this afternoon! Came home, glass of wine, Jammie's on, reclined on my sofa and going over all the Amazing vendors I met tonight! Your candles are amazing, can't wait to buy more!! I am the lady that bought her gfriend over to your table and she loved the n bought same candle!! Thank you🦋